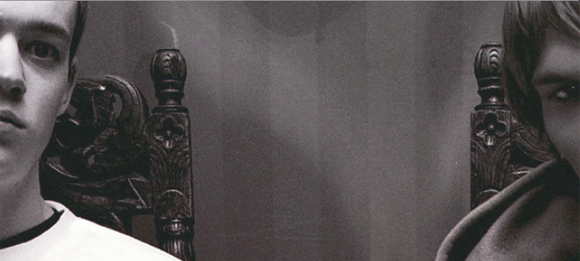 Here's one of my latest cocktail mixes which was featured on 94/7fm in Portland. The Area54 Mixes are on every Tuesday and Friday at 6pm.  You can also listen online at 947.fm, or you can check this site or the area54 site for archives of the shows.
Been playing Lo-Fi-Fnk for a couple of years now but really like this track which I pulled off of the Maison Kitsune 6 compilation.  Number 7 is already coming out next month and it looks like another great compilation with some really ripping tracks.  I had to go back to the granddaddies of the genre with an older New Order track from their 1985 LP Low Life.  I remember playing that album so much that I had to get a second copy because I wore out the vinyl.  It's amazing listening to New Order and realizing how influential they were for many of the bands that are currently getting airplay with the new electro 80's sound that's so prevalent today.
The Presets were just in Portland and put on a great show.  I like their live act but they are definitely a studio band.  Not that that's a bad thing, it's just hard to reproduce their studio produced sound in a live venue.  I'm still up in the air about the new U2 album.  This is a nice remix by Fred Falke, but I've come to expect more from him.  I only have the edit so maybe the extended version offers a bit more but so far I've been left cold by both the latest U2 effort and the remixes I've been hearing.  Judge for yourself.
Moby has a new album coming out next month called 'Wait for Me'.  I've heard one track from it so far and it sounds really mellow.  Seems like he's following up his last album pretty quickly though.  Finishing off the set with some older standards by M.I.A and a great Plump DJ's track featuring one of my favorite vocalists; Gary Numan.
1. Want U – Lo-Fi-Fnk
2. Forever [Feat. Neneh Cherry] – Kleerup
3. Sub-culture – New Order
4. This Boy's In Love – The Presets
5. Magnificent (Fred Falke Remix – Edit) – U2
6. I Left My Heart In Tokyo (Fred Falke Dub) – Mini Viva
7. Lift Me Up (Mylo Mix) – Moby
8. I Remember – Deadmau5 & Kaskade
9. Boyz (The Twelves Remix) – M.I.A.
10. Pray For You (Feat. Gary Numan) – Plump DJs
11. Lights Out – Santogold