Pipiwai Trail, Maui, Hawaii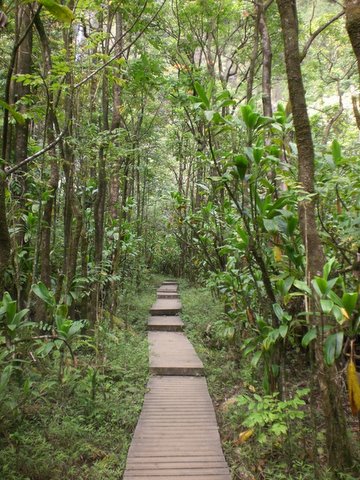 Just got back from some great hikes on Maui. Also epic surf and windsurfing but those pictures didn't turn out as colorful as the ones from the hikes. This one was taken hiking up the Pipiwai Trail at the Seven Sacred Pools. It's a 4 mile hike gaining about 650 feet in elevation. There are some great waterfalls and pools all the way up towards Waimoku Falls. Not to mention one of the densest bamboo forests I've seen on Maui. The Falls are the end of the trail and fall 400 feet down sheer rocks walls. You can stand underneath the water but it's pretty chilly for Hawaiian standards.
Also found a great dance station on Maui. They are called Maui's party station and they're at 105.5fm if you get a chance to listen. During the day it's pretty much CHR but they have a great mix show at noon as well as 5pm and at night it's pretty much free format. For the Euros visiting Maui they'll get their fill of Tiesto and Paul van Dijk every night.
Here's a little mix inspired by a couple of songs I heard on the station. Doesn't happen very often that I hear something on commercial radio that interests me.
1. People Are Strange (Chew Fu Remix) – The Doors
2. Hearts on Fire – Cut Copy
3. What Is Love -John Bourke
4. Rise Up (Original Mix) – Yves Larock
5. Sound Of Freedom (Original Club Mix) – Bob Sinclar
6. Alice (General Midi Remix) – Moby
7. Heart On The Line – Michal Canitrot Ft. Ann Saunderson
8. Ready For The Floor – Hot Chip
9. Electric Mistress (2007 Remix) – Jamiroquai
10. Superstylin – Groove Armada