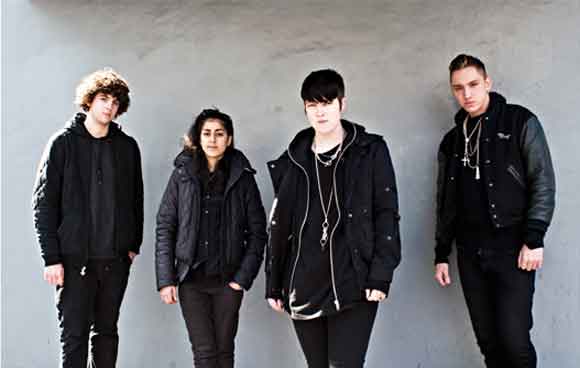 The xx coming to Doug Fir on the 26th with Friendly Fires.
Okay, so I missed September but I'm going to make it up to you with a double set of mixes this month. For now we'll just pretend it's still October….sunny, warm and dry.
I was a little late on the Fever Ray bandwagon but better late than never and now I'm hooked. The Knife's Karin Dreijer Andersson's solo project is amazing. The xx remind me of a mix between Mazzy Star and Hot Chip. Mazzy Star for the mellowness and Hot Chip for the quirkiness. Interesting that they just announced a spring tour with Hot Chip. Only 4 US dates so far and nothing in the Northwest but hopefully they'll add some dates.
YACHT is a local Portland band and they are getting lots of write ups in the music press. This Classixx remix of their "hit" song is excellent. Miike Snow is coming back to Portland in April and will be playing at the Hawthorne Theater. Their show at Doug Fir last month was sold out. Get your tickets early for this show.
Passion Pit will be in Portland for the 94/7fm December to Remember concert series. They'll be at the Crystal Ballroom on December 7th. They were in Eugene a couple of months ago but didn't play in Portland. Don't miss this show.
Really enjoying the latest Simian Mobile Disco album. They'll be at the Wonder Ballroom on the 28th of this month.
You really have to check out the Florence and the Machine's cover of The Source's "You Got The Love". The original is great but the xx's remix is simply amazing!
1. Seven – Fever Ray
2. Shelter – The xx
3. Psychic City (Classixx Remix) – Yacht
4. Song for No One – Miike Snow
5. A New Chance – The Tough Alliance
6. Major Lazer – Cash Flow (Classixx Glass Bottom Dub Mix)
7. Missing The Light Of The Day – Air
8. Moths Wings – Passion Pit
9. Earthquake (Treasure Fingers' Epicwave Mix) – Little Boots
10. White Winter Hymnal – Fleet Foxes
11. Audacity of Huge (feat. Chris Keating) – Simian Mobile Disco
12. You Got The Love (The XX Remix) – Florence And The Machine